For companies -conferences, team building etc
At Hölseböke Naturhälsogård we can offer a different kind of conference for companies. Here various activities can be alternated with business meetings. The creativity and inspiration is flowing freely in a beautiful setting. Hölseböke Naturhälsogård is the natural place for conferences, meetings and various company events as for example a kick off.
We can put together different offers for your company according to your wishes and what we have to offer at the farm. You are welcome to contact us for an unbiased discussion of your needs.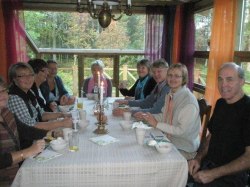 Our conference packages offer unique experiences for the person who appreciates simpleness and would like to experience peace and quiet. Here you can get to know one another, brainstorm and relax. The nature and stillness is inspiring to creative thought processes and successful decisions.
We are offering to organize meals, accommodations and activities surrounding the conference.
At your request, we will send an estimation for the following:
- One day conference (all year around)
- Multiple days conference (from 1st May to 30th September)
- Conference with Wild Boar Safari
- Team building (a collaboration with Alf Meijer, AMEG)
- Shared meetings to strengthen the team spirit
This is a new, exciting form of meetings where creative thoughts and idea may flow freely. The whole meeting is focused on the problems and solutions which you need to discuss. We guide you on a walk through beautiful nature where you are able to discuss questions in smaller groups to later on bring them up in the bigger group.
The beautiful surroundings, the fresh air and the physical activity might help you to create new thought patterns or creative connections which might solve different questions or problems. We might also help the creativity along with some small exercises during the walk.
If you are a large group of people, we recommend that you try the tepee. Everyone is able to make eye contact, and it increases the sense of participation. The tent can hold approximately 30 people, and a flip chart is available.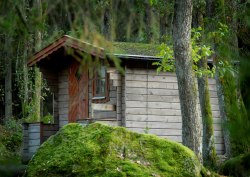 You are staying in the wilderness village called Hölseböke-Bara Vara which is located 800 metres from the farm.
Read more about it under Accommodation och Experiences.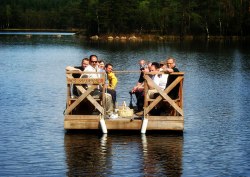 At Hölseböke Naturhälsogård we can offer many different activities which can be combined in a conference package.
Raft – The raft can be used for an unusual meeting that for certain will be undisturbed. Welcome to the most unique conference spot in Halland and Sweden! There is room for approximately 14 people.

Fishing, Sauna, Kayaks- Read more about them under Experiences.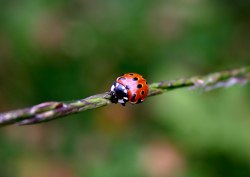 This is an outdoors pedagogy which was founded by Joseph Cornell, and it is a way to train our own presence and awareness by nature experiences. It is about balancing yourself, together with the flow of life that is constant in nature. Scientists claim that we have to direct our focus on many different situations at the same time, and this takes a lot of power. In nature it is more about spontaneous awareness, and it gives power and energy to focus on what exists in nature. The ability to focus is raised, and the blood count is improved.
In everyday life / at work, it is important to recognize these patterns. By spending more time in nature, the daily stress and anxieties are lessened, and with that the sick days are decreasing.
Green rehabilitation and health care
- with nature as a resource
At Hölseböke Naturhälsogård we wish to use nature as a resource for rehabilitation and health care. There are extensive research findings which show that it is healing and beneficial to spend time in nature, and in the later years, this has been acknowledged more and more in health care.
An increased knowledge and insight about yourself leads to an increased self confidence where you learn what your strengths and weaknesses are. This in turn results in the ability to make the right choices and influencing what one's life might be like. The individual will cease to feel like a victim under the circumstances and will realize that there is much which can be affected by his or her decisions.
We are working with the focus on processes and allow the participants to spend time in nature. Our goal is to help people get healthy and be able to return to their jobs, or another job which might be a better fit for the individual.
The groups should not exceed 8 people. We meet 1 – 4 times a week (half days) for 3 months.